If you are looking to boost your course sales, you should start an Instagram business and personal account page today.
Instagram lets you share your attractive posts with your targeted audience resulting in amazing course sales for you.
Let us then, take a look at the steps to get you started in Instagram.
Below are the things we will cover in the blog:
To give you a context, I have covered the topics: Instagram stats and Instagram business accounts.
Lastly, you can check out our other marketing articles like how to create a Facebook business page and how to get your course found on google.
Let's get started.
Some Interesting Instagram Stats
Ever since Instagram started in 2010, it has been a huge revolution among the young crowd.
Just check the stats of Instagram users in India as of May 2020.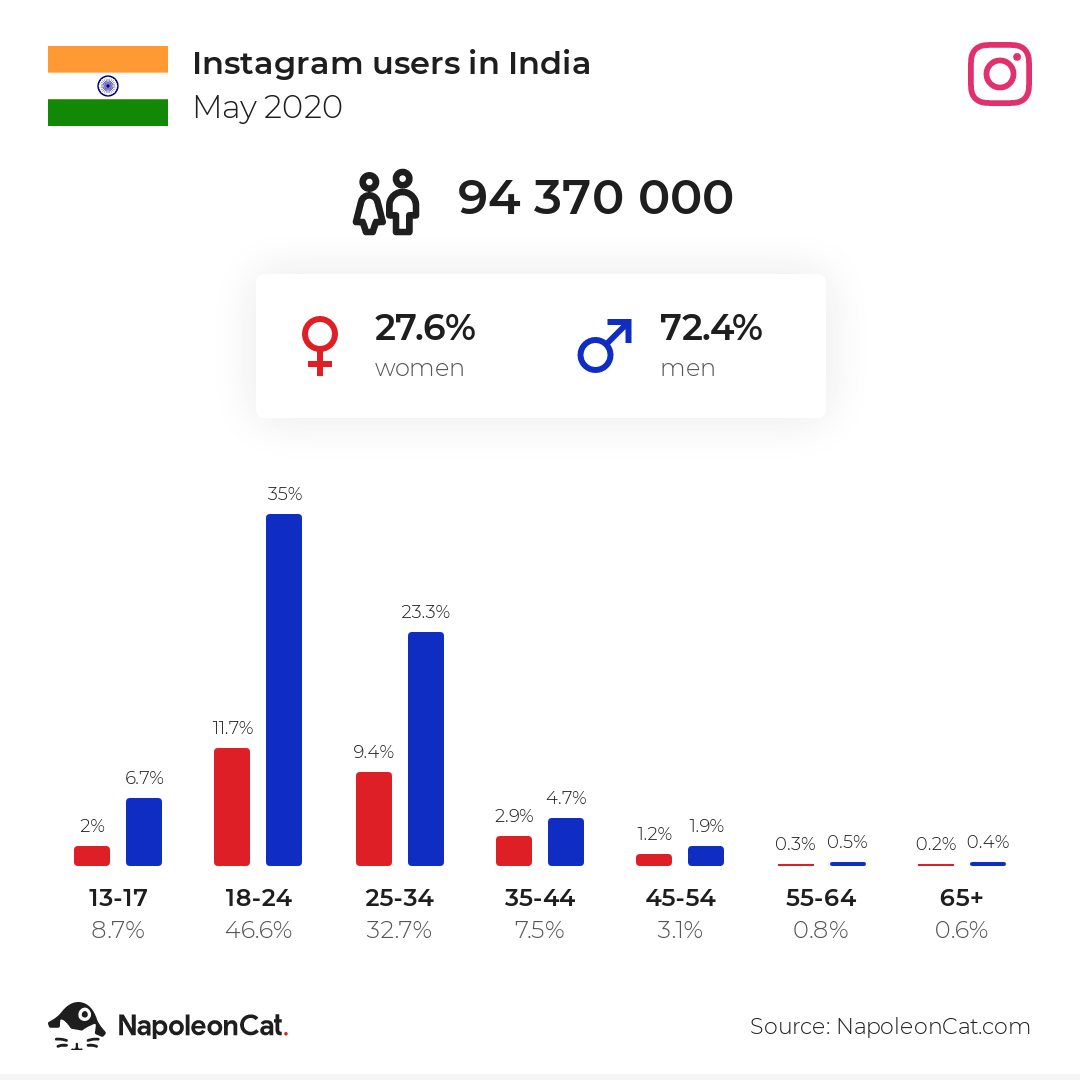 Find more statistics at
NapoleonCat
Almost 55% of this population are in the age bracket of 13-25. That is close to 5 crore or 50 million visitors every month.
This is the age group that looks out for courses to improve their skills or career.
So, you should look to market your course to these audiences by creating your Instagram account.
Bonus Read: How to get more followers on Instagram
Difference Between Instagram Business And Personal Account
There are 2 ways to reach students on Instagram.
First, is by creating an account in Instagram, sharing posts & tagging the right audience.
This is called a personal account. Whoever registers in Instagram gets this by default.
The 2nd way to reach more students is to add a new account and turn it into a business account.
A business account will give your business a category (ex: web designer in the image) and give you options to promote the page (ex: see promote button in the image)
If you want to promote your school or academy, you should consider adding a new account in your school name and turn it into a business account.
Why Should You Create An Instagram Business Page?
An Instagram business account has a lot of benefits.
One, it gives you the analytics to see how your posts are working. This is especially helpful if you're scheduling posts for your business.
You can promote your product or service through Instagram ads and make revenue when students click/buy your course.
You need a business page effectively track & monitor your ad performances.
Two, you can connect your existing Facebook page and link it to your Instagram account. This way, you can run Instagram ads from Facebook.
When trying to grow as a brand, a business page is the best way to reach your student's hearts.
So, with this, let us learn how to create an Instagram Business account.
How To Create An Instagram Business And Personal Account?
Create A Separate Account For Your Brand
The first step is to go to your Instagram app in your mobile and login to your account
Now, if you want to keep your personal account separate from your business account, add a new business account.
Continue the steps and you will reach your new business account page.
Go ahead and add a profile picture to your account by clicking on the plus symbol.
So, with this your basic instagram account is ready.
Next, let us see how to create a business page on instagram
Turn Your Account to A Business Account
Tap on the small round (with your image on it) on the bottom right and go to your profile.
Next click on the 3 horizontal bars on top right hand side and select the setting wheel.
Now scroll down to the bottom and click on account.
Now select switch to professional account
Here you can select a business account as a creator or as a brand. For ex: For my guitar school, I want to be known as a brand. So, I will choose the latter option.
I will be taken through a series of screens. Just press continue till you reach the last screen.
Here you will be asked to select a category. You can choose the product/service as an option and click next
It will ask you to verify your contact information. Give your email address and contact info and continue
Here it will ask you to connect any of your FB page with your instagram account. There are a lot of benefits of doing this step. So, go ahead and give a yes.
Once you have completed the steps, go to your profile. Now you can see buttons like promotions, insights and contacts.
Knowing Your Instagram Business Account
Here are the key elements you need to know in your business account to start promoting your business.
Edit Profile:
Take a look around in your business account. Under your profile picture, you will have a category displayed ex: product/service. You can find all the information in the edit profile section.
If you check your logo, it will now have a category, bio and website address which your students can view
Contact/Call:
There is a contact button where students can directly contact you via email or call.
Promotions:
The promotions button next to your logo allows you to do paid promotions of your posts.
Click on the promotions>create a post ex: a course at 90% off by July 2nd and promote it.
This way you can grow your business reach among the audience.
Insights:
Another option we have is the insights option that gives you data about the number of clicks you received, the post likes, follows & people reached.
It will show your audience demographics like age, gender and location
This data is very important because it helps you understand what works and what doesn't. Work on this data to improve your business reach.
Okay, so we are done with creating your Instagram business account. Now make the most of this information.
Go ahead and put those high quality course images in Instagram and start marketing your courses
Note: Besides Instagram, TikTok is also a great source to generate leads and sales for your online course. Buy 1000 TikTok views UK to boost your impressions, reach, and engagement for closing more course sales.
What's Next?
To know more about building courses check our build a course archive
If you have not created your online academy yet, click the button below.